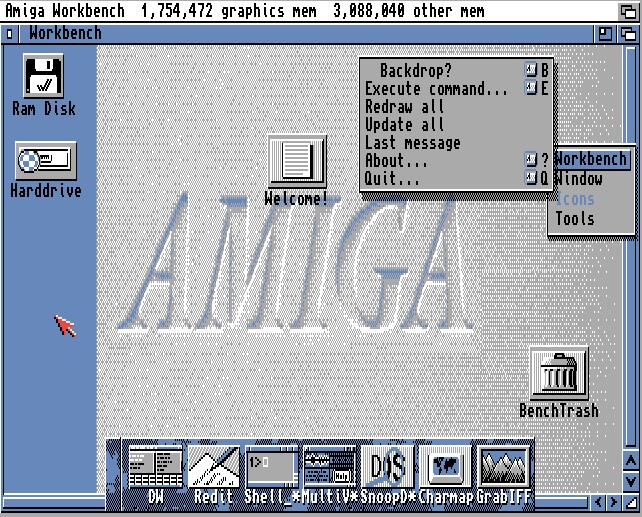 BestWB
: Nuovo Workbench molto simile a BetterWB creato appositamente per essere in linea e adatto per installare AmigaOS 3.1.4, una nuova distribuzione che mira ad eliminare tutte quelle penalizzazioni Hardware presenti sulle configurazioni AmigaOS precedenti, AmigaOS 3.1.4 è un pacchetto commerciale uscito i questi giorni.
BestWB è adatto per tutti coloro che desiderano un'esperienza di AmigaOS pulita senza rigonfiamenti inutili e avere più velocità e facilità d'uso, BestWB può essere installato su un Amiga Reale o Emulato anche con hardware performante.
Gli smanettoni potranno migliorare la qualità grafica utilizzando la nuova icon.library e potranno utilizzare qualsiasi icona sul workbench comprese le icone Dual PNG o icone di OS4, oppure ancora installare Picasso 96 e realizzare uno schermo RTG.
BestWB v1.2
:
Download
Caratteristich BestWB:
- A Find system tool so that the workbench menu "Find..." gets activated (SimpleFind).
- New and Improved datatypes for gif, jpg, bmp, png, pcx, tga, tiff, and wav media.
- New Removable media partition mounter (SCSIMounter)
- New System snooper (SnoopDOS)
- Fast and easy to use floppy disk copier application (SuperDuper)
- Libraries for cpu support and better hardware detection (MMULib+BoardsLib).
- A filemanager to copy, move and delete files in an easier manner (DirWork).
- Lots of of handy commodities that make user experience much more comfortable (GrabIFF, AssignWedge, CleverWIN, FreeWheel, Rewincy, ToolsMenu, ToolAlias, NewMode, yStart, DosPrefs, BenchTrash, PowerSnap, CronTask, PM and MagicMenu).
- 58 additional workbench printer drivers (take a peek at your SYS:Storage/printers drawer).
- Complementary commands like AddMem, DMS, WBCtrl, and showboards.
- ZIP and JAZ drive support and their corresponding mountlists (IOTools).
- XPKMaster offers a data compression/decompression library available to programs that support it.
- Charmap is a tool that helps dealing with all the characters of a given font. Useful for accents and uncommon characters.
- Prepcard+ helps the user to manage many hardware on the pcmcia port
- The popular LHA, LZX, GZIP and ZIP/UNZIP archiver commands are installed in their latest incarnation.
- Compact Disk audio player with lots of great features (ACDPlay)
- Midi support for many programs with camd.library and the Midiports preferences application.
- New graphic interface that lets you read and write back adf and dms floppy images (TSGUI).
- There is a new preferences program (WBStartupPrefs) that lets you easily handle the WBStartup and Commodities drawer.
- The light weight but otherwise efficient Redit text editor is also included.
- New monitors drivers for native Amiga chipset (Film24, HD720, HighGFX, SuperPlus and Xtreme).
- FontView is an app able to browse thru available fonts and report their characteristics.
- A Backup tool that can even be made to work with non Amiga partitions (ABackup).
- Shell with command completion, scrollbars and lots of other nice features thanks to VinCed.
- A workbench friendly NSD/TD64 compatible drive defragmenter (DiskOptimizer).
- Totalcalc is a replacement calculator that can even be configured as an advanced scientific one.
- Unpacker aids the user in uncompressing archived files with a GUI.
- A very fast antivirus that supports xvs.library is now deployed (Fungicide).
-TextView is an advanced text viewer that supports html between other formats.
- DTView2 is a simple and efficient picture viewer.
- IconLib 46.4 is a fast icon.library reimplementation that allows you to see all types of icons (standard, newicons, glowicons, png, etc.).
- FullPalette will let you lock and optimise palettes.
- A complete set of manuals that explain all these new features. They are inside HELP:.
- And much more…
Changes in this v1.2 update
- WBDock is a customizable program that creates a dock bar that holds programs for easier launch.
- PicShow is a powerfull and efficient picture viewer.
- ImageMount allows you to easily mount ADF, ISO and HDF image files.
- BestWB.guide has an introductory guide about BestWB, and is seen as a Welcome! icon in Workbench.
- Added two low resource backdrops to optionally beautify your Workbench.
- Added 4 FullPalette settings.
Updates:
- MMULib 46.17 -> 46.18
- SnoopDOS 3.8 -> 3.9
- ToolsMenu 1.8.1 -> 1.9.1
Bugfixes:
- Added missing GlowIcon for SuperPlus monitor driver.
- Removed Ystart due to unstability.
- Removed CleverWIN due to incompatibilities with certain programs.
Tweaks:
- SnoopDOS now is configured by default to show only fails.
- Fullpalette is now allways active no matter what.
- Several icons changed for better fitting ones.
- Removed DTView2 because now we have PicShow.