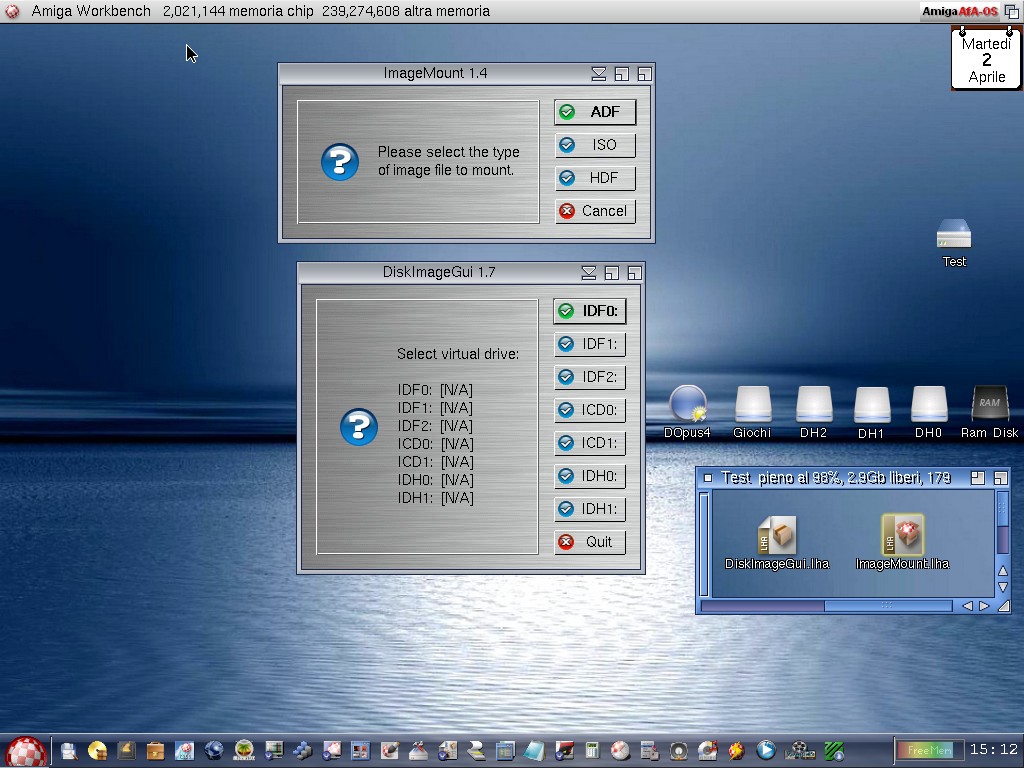 ImageMount
Ottimi strumeni sviluppati dallo stesso autore per montare al volo immagini floppy ADF, immagini ISO-CD o HardFile.
ImageMount v1.4:
Download
DiskImageGui V1.7
:
Download
ImageMount
is a requester driven script which allows you to mount ADF, ISO and
HDF image files in a really easy way with only a few mouse clicks, and you can
then treat the virtual devices like any other storage device (copy, delete,
rename files etc.). It works on any Amiga with KS 2.04 or higher, but requires
minimum version 38.21 of the Mount command (included in WB2.1). ImageMount
uses filedisk.device for mounting virtual devices.
DiskImage
is a concept that allows the user to mount any disk image file as a
DOS device. But with the included DiskImageGui script, this is limited to ADF
floppy images, ISO CD-ROM images and HDF harddisk images only. When a virtual
device is mounted, and a image file is "inserted", the user will be able to
copy files from/to the image, and it may also be possible to delete files from
the image as well. Basically, almost everything that can be done with real
devices can also be done with the virtual devices too.
One important thing to have in mind regarding HDF image files, is that they
must have been made by using the defaults in WinUAE, this means a block size
of 512 and a BlocksPerTrack value of 32.