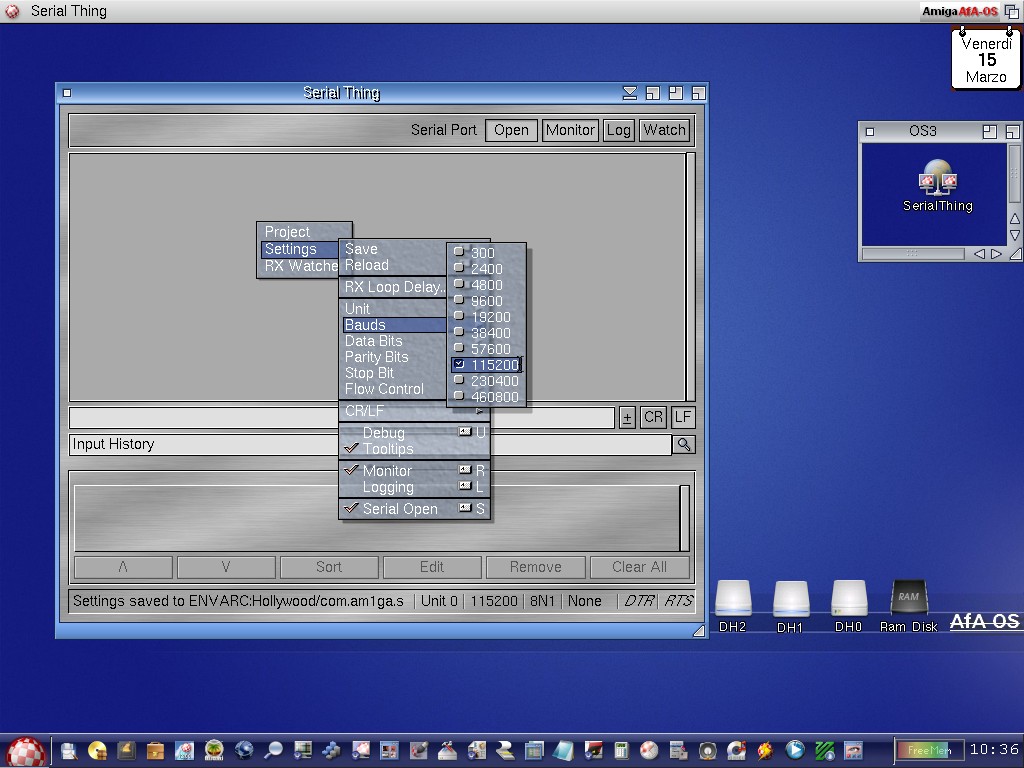 SerialThing:
Serial Terminal And Control Thing
Serial Thing is a serial terminal written with Hollywood 8.0 It makes use of the new serial library feature introduced in 8.0, and the RapaGUI plugin, to provide a native GUI on any platform.
It started as an exercise to learn the Hollywood programming language and to have a terminal program with the features I needed most to interact with microcontrollers like the Arduino and Esp32/Esp8266, various serial LCD displays, voice command modules, etc. While I was at it I tried to make it as useful to others as possible.
SerialThing v1.0 OS3/OS4/MOS
:
Download
Requirements:
To run the program on OS4 and OS3:
- MUI4
To run the .hws script or .hwa applet:
- Hollywood8 or HollywoodPlayer8 (once released) and the RapaGUI plugin.
To compile for other platforms:
- Hollywood 8 and the RapaGUI plugin for that platform (if linking it)
- Adjust the serial port menu and requester to allow using a path to
specify a device like '/dev/ttyS0' or 'COM1', instead of a unit number
- Adjust the icon reference in the xml.hws file
Installation:
OS4:
- Copy the executable and its icon or the whole SerialThing drawer
wherever you like.
OS3/MOS:
- Same as OS4 but replace the PPC executable with the 68k one from the
OS3 drawer. (Hollywood requires a 68020 or better)