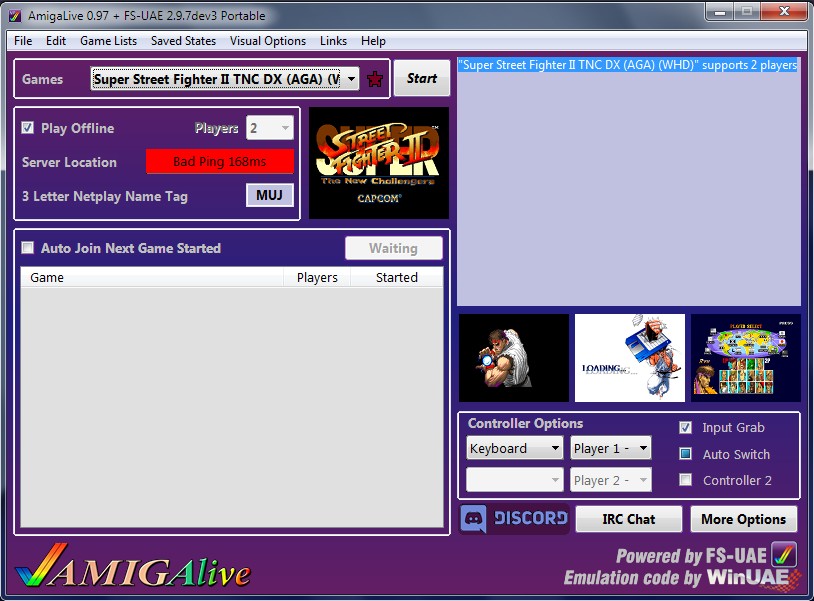 AmigaLive
è un'applicazione che utilizza FS-UAE con la Netplay, offrendo la possibilità per i giocatori di giocare con i vecchi classici giochi Amiga con altri giocatori da tutto il mondo, tutto questo come se si utilizzasse lo stesso computer Amiga. AmigaLive + Multipiattaforma gira su Windows, Linux e MAC, non ha bisogno di kickStart o altre applicazioni basta un click per giocare con i titoli tisponibili.
AmigaLive.com
Discord Game Lobby
AmigaLive 0.97 x Window:
Download
AmigaLive 0.97 x Mac OSX:
Download
AmigaLive 0.97 x Linux:
Download
Added features:
Added: Ability to select and share saved states.
Added: Discord Button-Link.
Removed features:
Removed: Old Joystick lookup method
Enhancements:
Enhancement: Various code improvements for stability and compatibility.
Enhancement: Joysticks search is now compatible with all platforms.
Fixes:
Fixed: Linux Saved States cleanup for compatibility and less desyncs.
Fixed: NilObjectException when closing AmigaLive before initialize was complete.
Fixed: Linux various visuals.
Fixed: Linux bug which saved custom settings twice
Fixed: Host may be terminated due to asynchronous launch (keeping synchronous).
Fixed: Mac/Linux Starting as Host now checks port TIME_WAIT state.
Various changes:
Change: Windows XP Pro and above now use WMIC process for stopping host server.
Replaced: Images for nil screenshots (blur-image with 1084s monitor+kickstart-image).
Reduced: Synchronous Games on each server from 10 to 6, for faster game search results.